Wedding Wine Glasses – From Elegant To Fun
Find the perfect wedding wine glasses, for your own wedding or as a gift. From elegant crystal champagne flutes to quirky, humorous wine glasses, you have your pick of styles. Every Bride and Groom need a special glass to toast with on their wedding day and these wedding wine glasses make a wonderful keepsake!
Here comes the Bride! A beautiful glass for the not-so-blushing bride! This exquisite wine glass is hand painted on both sides of the glass featuring a bride on her wedding day on the front and a bride on her wedding night on the reverse. And the sweet "frosting" at the bride's feet along with the with three dimensional elements, including a tiara crafter of Crystallized™ Swarovski Elements. Each glass is distinctively gift boxed for storage and gift-giving Makes a fantastic gift for the blushing Bride To Be!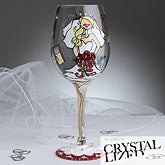 .
.
Our Bride & Groom Flutes are the perfect gift for the happy couple to toast in personalized style! We'll custom personalize your first names to create a personalized keepsake to enjoy for years to come! Exquisitely crafted of frosted glass with three dimensional elements, these stunning, toasting flutes dress the part! Set of two flutes include one in a tuxedo of etched glass with 3-dimensional glass bow tie and the other in a scalloped-neck dress, set off by a sparkling necklace hand crafted of Crystallized™ Swarovski Elements. Each bride and groom glass is designed and hand decorated by local artisans.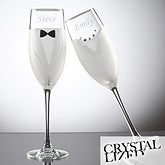 .
.
Silver and shimmering crystal combine for a sophisticated blend with our Crystal Accents Wedding Flute Set. Exquisitely crafted of shimmering silverplate embellished with sparkling crystals at the crown of each stem to form a stunning duo for your effervescent pleasure. Our artists skillfully engrave either your first names and date, or your 3 initial monogram to create a personalized keepsake to enjoy on your wedding day and anniversaries to come.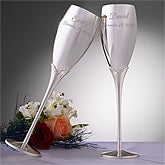 .
.
Your first sip of effervescent champagne will be a lasting memory when we custom personalize this exquisite set of crystal flutes with your first names and wedding date. The flutes carry the renowned Reed & Barton© brand of quality craftsmanship. The design is from the striking Soho collection, featuring unique, simple hand cuts that highlight the trumpet shape. The artful blend of classic with the contemporary makes them an essential wedding day accessory for those who appreciate modern elegance. Each flute stands approx. 10 1/2" tall. Set of 2 glass flutes. A toast to the happy Bride & Groom!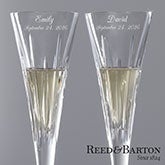 .
.

Empire Pewter Wine Goblet

Wow! Talk about shiny! These beautiful pewter wine goblets look like silver, but will not tarnish like silver.

These pewter wine glasses will be sure to add not only sparkle to your dinner table, but also will be a great way to get the conversation rolling.

Not only are they food safe, but they are also perfect for engraving, making them an excellent choice not only for yourself, but also as a gift for that special occasion!